Set in bushland near Hornsby, just off the Mount Colah exit of the Sydney to Newcastle expressway, the course offers eighteen challenging holes in very picturesque surroundings. With over sixty years experience serving the golfing & social needs of the local community, visitors will be rewarded with a very friendly & memorable experience.
Paul Lorimer
Head PGA Professional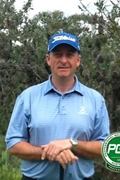 Some golf instructors teach a method, I teach people. People are individuals, both physically and psychologically. There are basic fundamentals that need to be met by all golfers. Those fundamentals are the framework for the individuals' swing. Individual's needs and goals, along with their physical and mental capabilities, need to be taken into consideration before a plan can be made. The golf swing is like a finger print, no two are the same.
Lord St, Mt Colah
02 94771403
Monday

Tuesday

Wednesday

Thursday

Saturday

10:00am - 4:30pm

9:30am - 2:30pm

8:30am - 10:30am

9:00am - 4:30pm

8:30am - 3:30pm